Audio Only - Arizona, Washington & California, 1986, 1988 & 1989
These lessons were collected from four different meetings preached by Homer Hailey.
Sermon 1 entitled "They Know Not God" was preached in Oracle, Arizona, 1986
Sermons 2 thru 8 are from a meeting entitled "Knowing God" held in Kirkland, Washington, April, 1988
Sermons 9 thru 14 are from a meeting entitled "Redemption" held in Kirkland, Washington, October, 1989
Sermons 15 thru 19 are from a meeting entitled "Jesus, The King" in Pollock Pines, California, March, 1989
Click for More
1) They Knew Not God
2) The Few & The Many
3) The Authority of Christ
4) The Authoritative Word
5) The Lost World
6) Attaining Divine Grace
7) The Harlot & The Bride
8) Sixty Years of Changes
9) The Need For A Savior
10) What Man Must Believe
11) The Virgin Birth
12) The Bible Believer
13) From Chief Sinner to Chief Missionary
14) Darkness & Light
15) The King In Prophecy
16) The King's Coronation
17) Our Responsibility To The King
18) The King Rules In Our Hearts
19) The Warrior King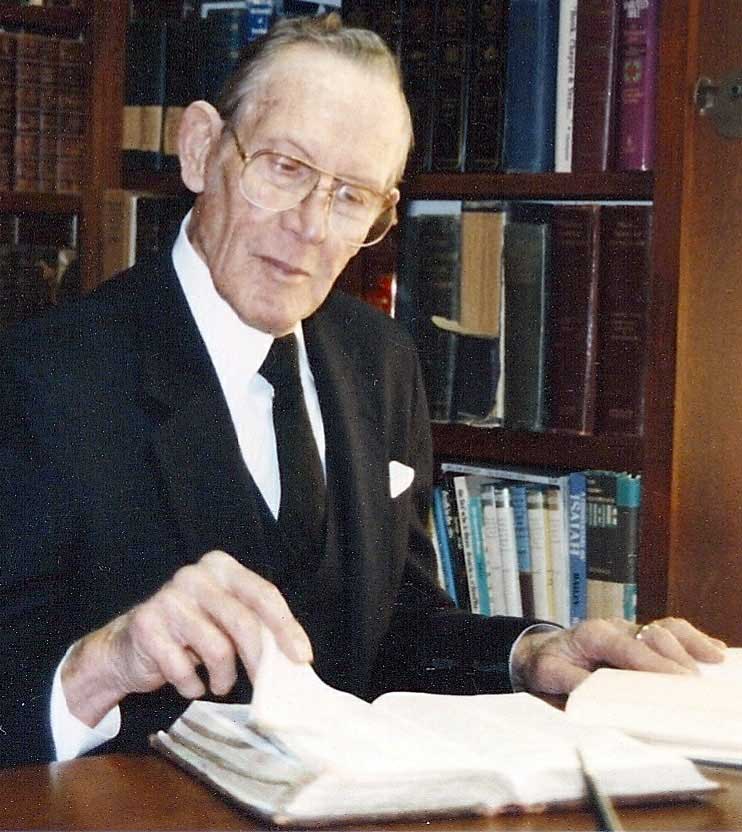 Homer Hailey
Homer Hailey was born in Marshall, Texas, on August 12th , 1903. His father died from the "Spanish Flu" in the devastating epidemic of 1918 so 15-year-old Homer, his mother Mamie, and brother Rob worked a wide variety of jobs to support the family. Homer was baptized and began attending a Christian Church in Willcox, Texas at the age of 19 in 1922 but decided to attend Abilene Christian College in 1926 and eventually chose the Church of Christ over the Christian Church. He began preaching on Sundays for the small churches surrounding Abilene and in 1930, the same year he graduated from the college, Homer married Lois Manly and then spent one year as the principal of Abilene Christian High School. He worked with a small church in Tempe, Arizona for a year before returning to Abilene in 1932 to spend 11 years preaching for the Fifth and Highland church which grew to almost 400 members while Homer also held at least a dozen meetings for other churches every year.
In 1934 Homer became a part-time teacher at Abilene Christian College and then enrolled at Southern Methodist University from which he obtained his Masters degree in church history in 1944. He preached a few years in Los Angeles and Honolulu before becoming an associate professor at Abilene Christian College from 1948 - 1951. At the age of 47, in 1951, Homer became the vice-president and head of the Bible Department at Florida Christian College in Temple Terrace, Florida. This same year he became an editor for "The Preceptor" and continued his heavy schedule of meetings during the summer months when school was out.
After three years of debilitating illness, Lois died from a brain tumor in 1954, bereaving Homer and five children. Eighteen months later, in 1955, Homer married Widna Kirby, a widow with two children of her own. Finally, in 1973, after 22 years with Florida College, they built a home and moved to Tucson, Arizona, where they lived quite happily until she too passed away in 1997. In his last 20 years Homer would drive (or, be driven) 29 miles from his home in Tucson up to the little town of Oracle, Arizona, where he preached and taught until his death on November 9th of 2000 at the age of 97.
The author of numerous books, Homer is most famous for his commentaries on Isaiah, the Minor Prophets, and Revelation although he also penned superb studies of Job, Daniel, and John's Gospel. He further wrote on Prayer, the Covenants, God's Eternal Purpose, and "Attitudes and Consequences in the Restoration Movement" and many other topics. Near the end he wrote a final, fascinating, and thoroughly thought-provoking book entitled "God's Judgements and Punishments" which is certain to stimulate serious and rewarding study for anyone who cares about such things. His printed works may be purchased through the Florida College Bookstore (Call 813-988-5131 or online at Florida College Bookstore).
In the course of more than 70 years of preaching Homer held at least 600 meetings and influenced many thousands of people to become Christians, grow and remain faithful, and even enter on the great work of preaching themselves. Ruby Stroup, who selflessly helped him through the last years of his failing health, was instrumental in recording the last lessons he ever taught in Oracle, Arizona. These recordings cover nearly every book in the entire Bible and are made available only through this website with Ruby's kind permission.
For a much more comprehensive biography of Homer's life you'll be greatly blessed to read "The Churches of Christ in the 20th Century" by David Edwin Harrell. That 386 page book is subtitled "Homer Hailey's Personal Journey of Faith" thus covering 100 years of church history as well as the marvelous life of Homer Hailey. (Here on Amazon)
Click for More