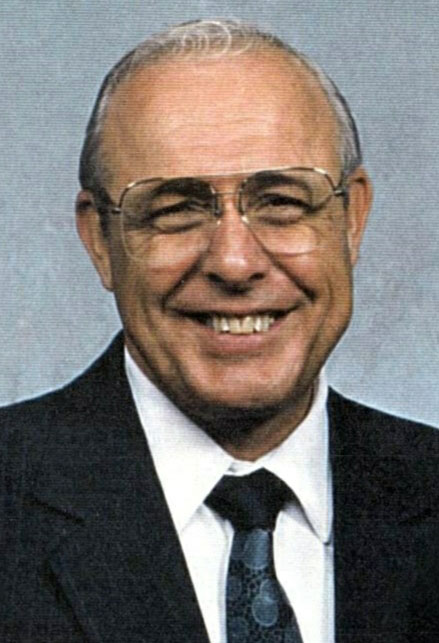 Lowell Williams
In 1931 Lowell Williams was born to impoverished parents on the front porch of what he described as "a shack" outside Casey, Illinois. He graduated from grade and high schools in Casey, before entering the Air Force in 1950. During the Korean war Lowell served as an instructor at a helicopter mechanic school and was stationed mostly in Texas where he met his first wife, Doris, in 1951. She introduced Lowell to Christ so that in 1952 he not only became a Christian but also married Doris. In 1954 Lowell left the Air Force and entered Abilene Christian College (now a university) where he majored in Bible, minored in Greek, and doubled up on his classes so as to receive his four year Bachelor of Arts degree in only two years of intensive study. During 1956 he preached in Las Vegas, Nevada, but after one year returned to A.C.C. and completed his Masters degree in Bible. Lowell then preached in Beaverton, Oregon, for two years before moving to Kirkland, Washington on July 1, 1960.
The Kirkland Church of Christ is located due east of Seattle just across Lake Washington. This area become Lowell's home for the next 35 years. During the period from 1960 through 1995 Lowell taught as many as 11 classes and sermons per WEEK. Young men and women from all over the United States came to Kirkland to benefit from Lowell's masterful teaching of Scripture, the Greek language, church history, hermeneutics, counseling, and a variety of other Bible related classes. He also taught focused lessons for men in the art of preaching. During six of these years he hosted the "Ask Your Preacher" radio program, which resulted in so many baptisms that Lowell could only remember he "lost count after 168". The Kirkland church grew to 275 members and moved through three buildings while Lowell was their preacher. He also helped establish five other congregations. He became an elder in 1972 and served in that capacity for 45 years.
Immediately after his arrival in Kirkland, Lowell was asked by V. R. Daugherty to debate John Gibbs of the Green Lake church in Seattle on the topics of church co-operation and the "Herald of Truth" radio program. Lowell was quite reluctant, but V. R. insisted, so the debate was held on Sept. 13-16, 1960. The Northwest church hosted the first two nights and the Southwest church the last two. This debate was recorded and is available through this website.
Again, on four consecutive nights eight years later, September 9-12, 1968, Lowell debated Robert Slasor who was the "District Missionary of the Reorganized Church of Jesus Christ of Latter Day Saints". This debate was so pivotal that two things which happened afterward are worthy of note. First, Mr. Slasor personally appealed to Lowell NOT to print the debate in book form as they had previously agreed. He said that he had fully believed the Holy Spirit would give him victory (based on the official Mormon doctrine and command found in Joseph Smith's "Doctrine and Covenants, Section 71, lines 5 - 11). Robert however, was disappointed in that regard, so he afterwards called and asked Lowell not to print the book they'd agreed to publish together. Secondly, a member of the Mormon church informed Lowell that after the debate a formal pronouncement was issued to the Mormons forbidding them to EVER debate a member of the Church of Christ again. The Mormons have faithfully refused to obey the supposed "Revelation" of Joseph Smith and Sidney Rigdon ever since.
Doris Williams, his beloved wife of thirty-two years, and a fine teacher in her own right, unexpectedly and tragically left this earth for her great and richly deserved reward in November of 1984 while undergoing heart surgery. One of Lowell's most widely distributed classes entitled "Coping With Grief" resulted from her death. Eleven years later, 1995 would be a very busy and satisfying year for Lowell as he led the saints in the establishment of the Monroe Valley church (about 30 minutes east of Kirkland) and also married Helen Vandegriff, another fine Christian woman and teacher.
From 1995 into 2017 Lowell worked as an elder and preacher for the Monroe Valley Church of Christ until he left this earth at the age of 86 on March 15, 2017. The memorial service was broadcast live and is available on this website in the "Miscellaneous" section or by (Clicking Here).
Very few men have taught more classes, brought more people to Christ, established more congregations, trained more preachers, done more counseling, or been more generally influential in the proclamation of the gospel than Lowell Williams.
Note: This biography was updated in March of 2017 by Larry Haverstock, who was Lowell's student from September, 1975 thru March, 1980 and again from Sept. 1986 thru June of 1993. Larry also became the Kirkland church's preacher (2006 - 2012) which Lowell had so faithfully served for three and half decades.
Click for More